With the season of sunshine upon us, it is never too early to stock your wardrobe with beautiful summer-ready fabrics. The eminent season will be all about palette cleansing, vibrant colors. But, apart from the sunshine, there are other things that gleam in this season too. One of the things is you. Yes, the weather calls for you to bloom as well, both mentally and physically. Although the first one is your disposition, Jersey Loop plays a pivotal role in helping you achieve the later.

This season's new collection of single-piece unstitched shirts by Jersey Loop is a concoction of livelyf colors, delightful floral prints and cool breezy fabrics. Perfectly complimenting the season, these one-piece unstitched shirt pieces are a visual representation of the little joys we have in our lives that are frugal, and stay with us forever. Soaking in the energy and optimism of the season, Jersey Loop new Summer Lawn Collection is going to infuse both these things and several other positive ones in your wardrobe at an affordable price.
It is completely true that I am head over heels in love with all the prints of the one-piece lawn collection. However, there are some that literally warm my heart and are show stoppers. Here's a list of those unstitched single-piece lawn shirts that are your wardrobe must-have this summer.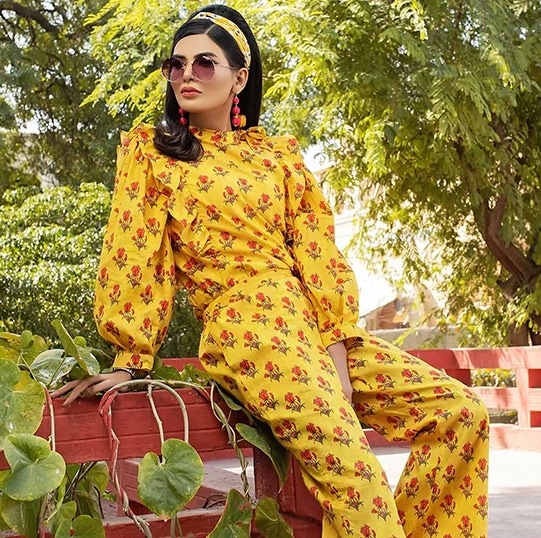 The Sunshine Yellow

Summer is all about high pony tails, stylish glasses and a quirky attitude. This yellow-colored unstitched single piece shirt screams of the fun and pleasure the season brings with it. Featuring micro-florals in contrasting hues, the shirt piece exudes chirpy vibes and is perfect for a lively daytime look. The styling options are endless with this print. You can dress it up or dress it down depending on your personal style.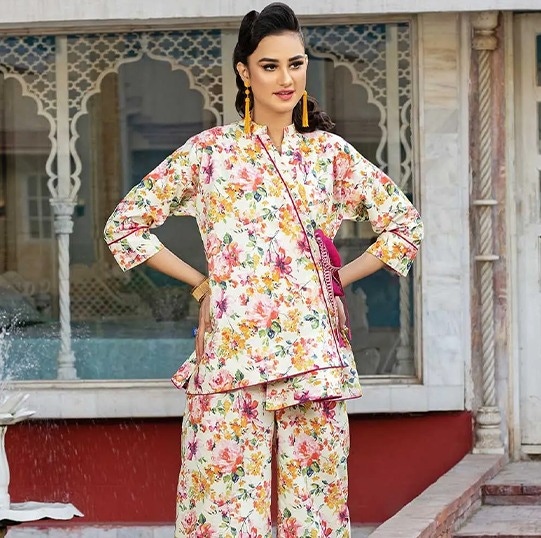 Floral Fantasy

Let this summer be about soft and subtle hues that exude grace and simplicity with this floral single-piece unstitched shirt featured in Jersey Loop Lawn Collection 2022. Pair the shirt with cool dangling earrings to make your look effortlessly chic.

Blissful Blues

Lighter shades of blue should be your go-to color in the scorching summer heat. It's soothing to the eyes and gives off positive vibes. With contrasting bright colored borders, this shirt piece is a must-have for summer 2022.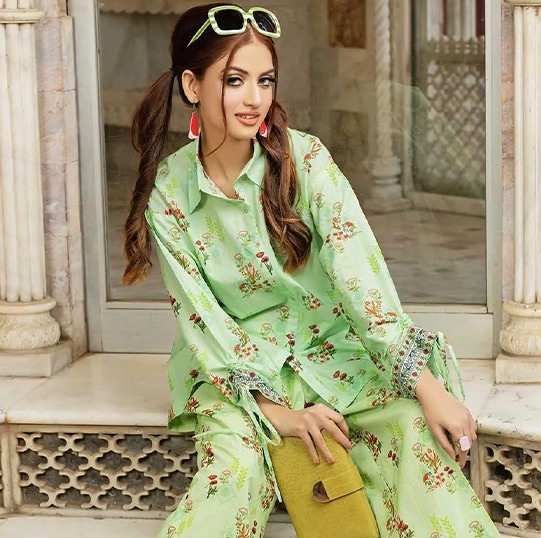 Pista Delight

Light and soft colors are the statement styles. The color and fabric of this shirt here would keep you cool throughout the day. Shown here is just one of the endless styling options you can create with this 1-piece fabric. Let your inner fashionista go wild and design outfits you'll absolutely love!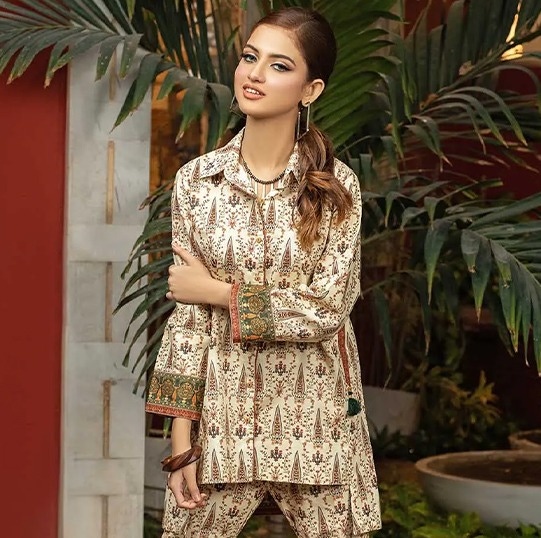 The Work Fix

Are you looking forward to upgrading your work wardrobe this year? Well, then Jersey Loop Lawn Collection of single-piece unstitched shirts are just your perfect fix. This beige floral shirt would definitely bring your office look a level up. Giving your wardrobe a touch of chic keeping the traditional intact, this is a great price to invest in.
Cool & Breezy

In these torturously hot summers, enter like a breath of fresh air. Delve into the serenity and tranquility of blue and exude coolness in this single-piece unstitched shirt by Jersey Loop.
Seriously Fun

You can never go wrong with a cheery yellow outfit. This fun print is not taking itself seriously and neither should you. Match it up with a pair of black culottes or tights. Do your thing, this summer.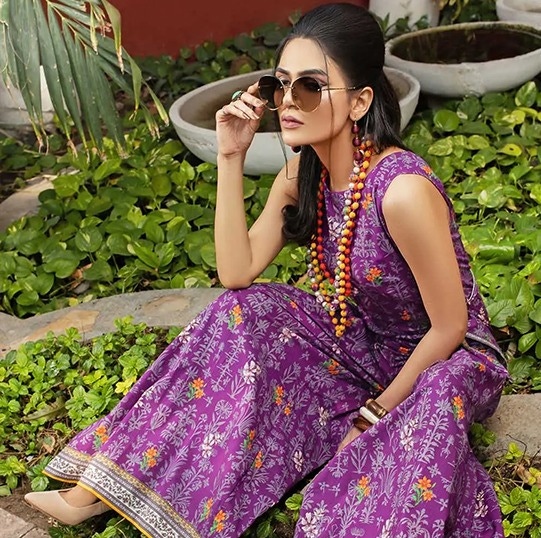 Purple Haze

The very popular combination of purple and white, along with the vintage florals make this unstitched single-piece shirt one of my top choices from the collection. You can add your pinch of creativity to the shirt in terms of stitching and even experiment with the pants.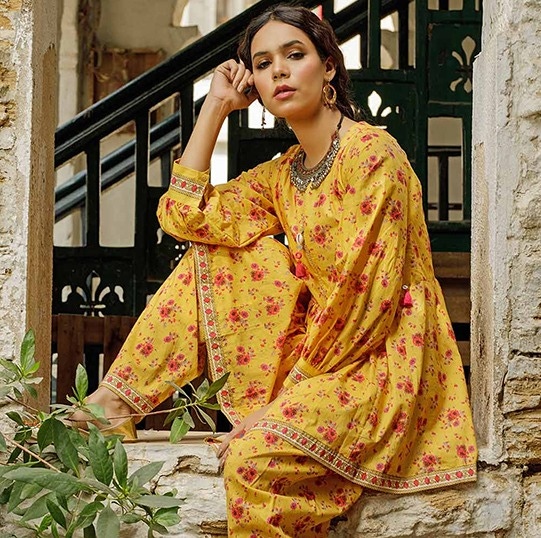 The Chic

Okay, so I may come off as a fan of mustard, but hey! I can't help it. Okay! Come on, this one-piece shirt looks so sophisticated and feminine. Totally something I'd wear on an afternoon out with friends. It's casual, yet elegant.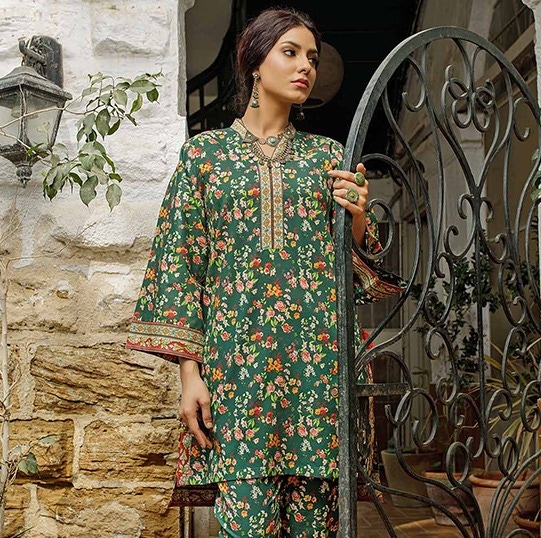 Matching Separates
Matching separates have made a comeback this year–and that too in full glory. And this unstitched single-piece shirt in Summer Lawn edit does complete justice to the trend. Get an edgy look by adding quirky traditional jewelry and a laid back hairstyle.
If you're tempted to buy from these designs as much as I am, don't ignore this feeling and purchase them straight away. These unstitched single-piece suits from Jersey Loop Summer Lawn 2022 are surely the perfect bet to place this summer!